Tanja works as a singer and as a conductor in different bands and projects and can write custom arrangements for professional ensembles, choirs, background vocals for bands or for "on-demand" projects. As a vocalist and vocal coach, she understands what singers need for a full-sounding but easy-to-sing chart, and can write according to detailed specifications of time, genre and voice type.
The "Tanja Raich Quartett" puts expressional jazzy arrangements of various – well known and unknown – pop songs on stage. 
Tanja's colorful voice covers everything from being rough, rock-solid and tender-sensual. This way she gives every song that special touch – her special touch. Tanja is accompanied by Christoph Eisenburger on piano, Werner Lauscher on bass and Luc Nelissen on vocal percussion. The three of them have years of experience in several musical ensembles and add their own signature to every song. Their arrangements rely on both pure song material and room for improvisation.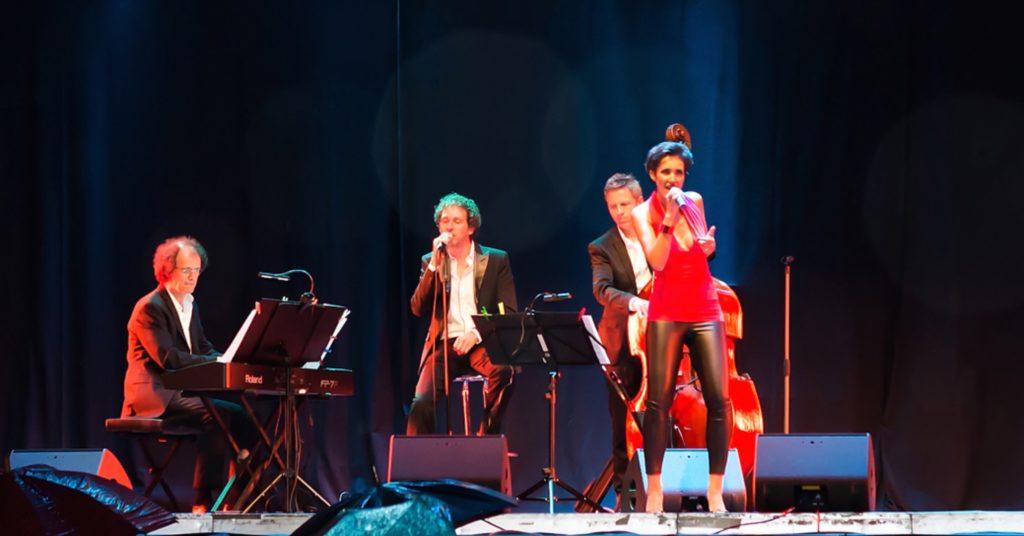 Chamber choir of 25 singers singing Pop and Jazz arrangements and songs in "Öcher"- dialect combined with Body Percussion and some choreography. 
In 2018 the choir celebrated its 15th anniversary with its new show
"Beziehungs-KISTEN".
The six Popchoir-Projects with lots of concerts, a flashmob, a cool video-production, more than 250 singers and a fabulous band on stage was a huge success. Although there won't be a Popchoir-Project in 2020/2021 (due to Covid-19), we decided to continue with this project as soon as we are allowed to meet and sing again. And we hope we can start again in September 2021! If so, there will be 2 projects (Popchoir-Project and Greatest Showman Choir-Project).
More Info? Just send me a message: info@tanjaraich.com
Registration
Sekretariat der Musikschule der Stadt Aachen
Franzstrasse 58/68, 52064 Aachen
Fon: 0241 432 38 950 oder 0241 99 79 00
Fax: 0241 99 79 019
musikschule@mail.aachen.de
Dates
A new and small choir, singing mainly Pop- and Jazzmusic accompanied by piano an vocal percussion. Tiny choreographic elements will be added to every song and our performance can't be pigeonholed, let's say it's "frameless". Founded in early autumn 2019 we are still looking for a Tenor and a Bass- man out there: raise your voice and join Frameless!